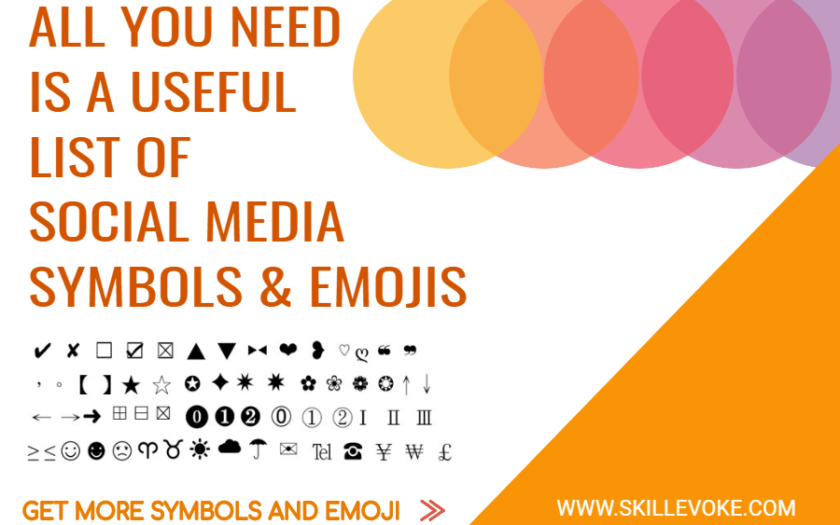 ★

Social Media Symbols Lists and Useful Emoji Lists

★

Using symbols is one of the secrete strategy to use in social media marketing. Here is a list of symbols or emoji  that you can use in your social media marketing. You can also use them in plain-text format.

Feel free to copy and paste and use them in your social media, you can also share this post on social media to let people know about it. Have fun. 
Why Should I Use Symbols and Emojis in Social Media Marketing?
Symbols can motivate people to respond to your call to action in the social media such as Instagram, Facebook,  Youtube, Pinterest and Twitter. Emojis are international and one of the important aspects of social marketing. When you include an emoji in your comments and messages on facebook or twitter, you can directly engage with your audience and customers naturally. 
Lists of Useful Symbols and Emojis
Tick Symbols
✓ ✔ ✗ ✘ ∨ √ ˇ ☐ ☑ ☒
Circle Symbols
◦○ ◯ ⦿ ◉ ● ⊖ ⊙ ⊚ ⊕ ⊗ ⊘ ⊛ ⊜ ⊝ ◌ ◍ ◎ ◐ ◑ ◒ ◓ ◔ ◕ ◖ ◗  ❍ ⌒  ◜ ◝ ◞ ◟ ◠ ◡ ⍥ ⧀ ⧁ ⦰ ⦷ ⦹ ⦺ ⦻ ⦼ ⦽ ⧂ ⧃ ⧭ ⍜ ♾ ⏀ ⏁ ⏂ ⍉ ⌽ ⎊ ⧬ ⧭ ◵ ⦻ ⧲ ⧳ ⚇ ⚆ ⚉ ⚈
Colorful Love Symbols
♥ ❤ ❥ ♡ დ ღ ❣ ❦ ❧ ❤  ღ  ❥  ♡ 💓  💔  💕 
💖  💗  💘  💙  💚  💛  💜  💝  💞  💟
Stars Symbols
★ ☆ ✪ ✦ ✧ ✩ ✫ ✬ ✭ ✮ ✯ ✰ ✡ ⁂ ⁎ ⁑ * ⁕ ✢ ✣
✥ ✱ ✲ ✳ ✴ ✵ ✶ ✷ ✸ ✹ ✺
Arrows Symbols
↑ ↓ → ← ↔ ↕ ↗ ↖ ↘ ↙ ↛ ↚  ⤴ ⤵ ↵ ↴ ↱ ↰ ↳ ↲
↟ ↡ ↠ ↞ ↣ ↢ ↥ ↧ ↦ ↤ ↨ ↬ ↫ ↝ ↜ ↭ ↮  ↯ ↸
↾ ↿↼ ⇀⇂ ⇃↽ ⇁  ⥒ ⥓ ⥔ ⥕ ⥖ ⥗ ⥘ ⥙ ⤞ ⤝ ⤠ ⤟
⇒ ⇐ ⇏ ⇍ ⇎ ⇕ ⇗ ⇖ ⇘ ⇙ ➾ ⇛ ⇚ ⇝ ⇜ ⇞ ⇟ ⇢ ⇠ ⇡ ⇣ ⇥ ⇤
⥂ ⥃ ⥄ ⥅ ⥆ ↹ ⇈ ⇊ ⇇ ⇉ ⇅ ⇄ ⇆
↩ ↪ ⤣ ⤤ ⤥ ⤦ ⤡ ⤢ ⤧ ⤨ ⤩ ⤪ ⤭ ⤮ ⤱ ⤲ ⤯ ⤰
⤻ ⤺ ⤼ ⤽ ⤹ ⤸ ⤿ ⤾ ⥀ ⥁ ↺ ↻ ⟲ ⟳ ⟴
➔ ➘ ➙ ➚ ➛ ➜ ➝ ➞ ➟ ➠ ➡ ➢ ➣ ➤ ➥ ➦ ➧ ➨ ➲
➩ ➪ ➫ ➬ ➭ ➮ ➯ ➱
⇦ ⇧ ⇨ ⇩ ⇪ ⌅ ⌆ ⌤ ⏎  
☇ ☈ ☊ ☋ ☌ ☍
➳ ➴ ➵ ➶ ➷ ➸ ➹ ➺ ➻ ➼ ➽
⥦ ⥧ ⥨ ⥩ ⥪ ⥫ ⥬ ⥭ ⥢ ⥤ ⇋ ⇌
⟰ ⟱ ⟻ ⟼ ⟸ ⟹ ⟺ ⟽ ⟾ ⥼ ⥽ ⥾ ⥿ ⤌ ⤍ ⤎ ⤏ ⤐ ⤑
⮰ ⮱ ⮲ ⮳ ⮴ ⮵ ⮶ ⮷ ⮨ ⮩ ⮫ ⮬ ⮭ ⮮ ⮯
Different Types of Brackets Symbols
( ) < > { } 〈 〉 《 》 「 」 『 』 【 】
〔 〕 ﹙ ﹚ ﹛ ﹜ ﹝ ﹞ ﹤ ﹥
  ︵ ︷ ︹ ︻ ︽  ︿ ﹁ ﹃
  ︶ ︸ ︺ ︼ ︾  ﹀ ﹂ ﹄
Flower and Snow Symbols
✿ ❀ ❁ ❂ ❃ ❇ ❈ ❉
❊ ❋ ✻ ✼ ✤ ✽ ✾ 
Square Rectangular Shape Symbols
∎ ⊞ ⊟ ⊠ ⊡ ⎔ ⎚ ▀
▁ ▂ ▃ ▄ ▅ ▆ ▇ █ ▉ ▊ ▋ ▋ ▌ ▍ ▎ ▏ ▐ ░ ▒
▓ ▔ ■ □ ▢ ▣ ▤ ▥ ▦ ▧ ▨ ▩ ▪ ▫ ▬ ▭ ▮ ▯ ▰ ▱
◘ ◧ ◨ ◩ ◪ ◫ ☖ ☗ ❏ ❐ ❑ ❒ ❖ ❘ ❙ ❚ ◊  ▩ ▢ ⊡ ⧉ ⟥ ⟤
⧆ ⧈ ⧇ ⧄ ⧅ ⧯ ⧮ ⌷ ⌸ ⌹ ⍰ ⍞ ⍠ ⍁ ⍂ ⎅ ⏍ ⏛
◆ ◇ ◈ ⟐ ⋄ ⟐ ⟡ ⎏ ⎐ ⎑ ⎒ ⟢ ⟣ ⧪ ⧫ ⧰ ⍚ ⟕ ⟖ ⟗ ⟠
▖ ▗ ▘ ▙ ▚ ▛ ▜ ▝ ▞ ▟
Expressive Emojis Symbols
☺ ☻ ☹  〠  웃 유
😀 😁 😂 😃 😄 😅 😆 😇 😈
😉 😊 😋 😌 😍 😎 😏 😐 😑
😒 😓 😔 😕 😖 😗 😘 😙 😚
😛 😜 😝 😞 😟 😠 😡 😢 😣
😤 😥 😦 😧 😨 😩 😪 😫 😬
😭 😮 😯 😰 😱 😲 😳 😴 😵
😶 😷 😸 😹 😺 😻 😼 😽 😾
😿 🙀 🙈 🙉 🙊 🙆 🙋 🙍 🙎
🙅
Male and Female Symbols
☿ ♀ ♁ ♂ ⚢ ⚣ ⚤ ⚥ ⚦ ⚧ ⚨ ⚩
Weather Symbols
☀ ☁ ☂ ϟ  ☄ ☉ ☼ ☾ ☽ ♁ ♨ ❄ ❅ ❆ ☃ ⭐ ☁ ⛅
🌤 🌥 🌦 🌧 🌩 🌪 🌫 🌀 🌈 🌂 ☔ ⚡  ⛄
Finger/Pointing Symbols
☛ ☚ ☞ ☜ ☟
👋 🤚 🖐🖖 ✋ 👌 ✌ 🤞 🤟 🤘 🤙 👉👈 👆 👇
 👍 👎 ✊ 👊🤜 🤛 👏 🙌 🤲 👐 🙏 ✍ 💪
👋🏻 🤚🏻 🖐🏻🖖🏻 ✋🏻 👌🏻 ✌🏻 🤞🏻 🤟🏻 🤘🏻 🤙🏻 👉🏻👈🏻 👆🏻 👇🏻
☝🏻 👍🏻 👎🏻 ✊🏻 👊🏻🤜🏻 🤛🏻 👏🏻 🙌🏻 🤲🏻 👐🏻 🙏🏻 ✍🏻 💪🏻
👋🏽 🤚🏽 🖐🏽🖖🏽 ✋🏽 👌🏽 ✌🏽 🤞🏽 🤟🏽 🤘🏽 🤙🏽 👉🏽👈🏽 👆🏽 👇🏽
☝🏽 👍🏽 👎🏽 ✊🏽 👊🏽🤜🏽 🤛🏽 👏🏽 🙌🏽 🤲🏽 👐🏽 🙏🏽 ✍🏽 💪🏽
Office Telephone Symbols
✉ ℡ ℻ ☎ ☏ ✂ ✄ ✆ ✎ ✏ ✐ ✑ ✒ ✇ ℗ © ®
⌛ ✈  ™ % ‰ ‱🅏 🆏 ⚐ ⚑ ⚆ ⚇ ⚈ ⚉ ⚞ ⚟ ⚠
⚬ ⚭ ⚮ ⚯ ☊ ♂ ♀
Ice Cream, Cake, Dessert, Drink Emojis
🍦 🍧 🍨 🍮 🍰 🍮 🍩 🥧 🍪 🎂 🍬 🍭 🍯 
🍼 🥛 ☕ 🍵 🍶 🍷 🍸 🍹 🍺 🍻 🥂 🥃 🥤 
Fruit Emojis
🍇 🍈 🍉 🍊 🍋 🍌 🍍 🍎 🍏
🍐 🍑 🍒 🍓 🥝 🍅 🥥 🥑
🍆 🥔 🥕 🌽 🌶 🥒 🥦 🍄 🥜
Food Emojis (Rice, Noodles, Curry, Sushi Emojis)
🍚 🍛 🍜 🍝 🍠🍢🍣 🍤 🍥 🍡
🥟 🥠 🥢 🍽 🍴 🥄 
Plants Emojis 
🌼 🌻 🌺 🌹 💐 🌲 🌿 ☘
🍀 🌳 🌵 🌾 🍁 🥀 🌱 
Public Transport Emojis/ Symbols
🚂 🚅 🚇 🚋 🚌 🚑 🚒
🚓 🚕 🚗 🚛 🚲 🛵 ✈
⛴ 🛳 🚁 🚠 🚀
Animals Emojis (Pig, Cow, Monkey, Dog, Camel etc)
🐶 🐷 🐮 🐵 🐱 🐺 🦁 🐯
🐗 🐻 🐨 🐼 🐹 🐭  🐸
🐕 🐒 🐈 🐎 🐄 🐖 🐑 🐫
🐘 🐇 🐓 🐤 🐧 🦉 🐢 🐉
🐳 🐟 🦋 🐛 🐍  🐌  🦇  🐞
Sport Emojis (Basketball, baseball, bowling etc.)
🏀 ⚾ ⚽ 🏐 🏈 🎾 🎳 🎱  🏉 
Poker Symbols
♣ ♦ ♥ ♠ ♡ ♢ ♤ ♧ 
Temperature Symbols and Mathematics Symbols
℃ ℉ ㎎ ㎏ ㎜ ㎝ ㎞ ㎡ ㏄ ㏎ ㏑ ㏒ ㏕ ° ℉
§№ ℡ ℠ ™  ℀ ℁ ℅ ℆ ℂ  ℄ ℇ ℈
㎙ ㎚ ㎛ ㎜ ㎝ ㎞ ㎟ ㎠ ㎡ ㎢ ㎣ ㎤ ㎥ ㎦
㎅ ㎆ ㎇㎕ ㎖ ㎗ ㎘ ㎍ ㎎ ㎏ ㏀ ㏁
㍱ ㍲ ㍳ ㍴ ㍵ ㍶ ㎀ ㎁ ㎂ ㎃ ㎄
㎈ ㎉ ㎊ ㎋ ㎌ ㎐ ㎑ ㎒ ㎓ ㎔
㏃ ㏄ ㏅ ㏆ ㏇ ㏈ ㏉ ㏊ ㏋ ㏌ ㏍ ㏎ ㏏
㏐ ㏑ ㏒ ㏓ ㏔ ㏕ ㏖ ㏗ ㏙ ㏚ ㏛ ㏜ ㏝
⦯ ⦮ ⦨ ⦩ ⦬ ⦭ ⦪ ⦫ ⦥ ⦤ ⦦ ⦧ ⦛ ⦜ ⦟ ⦡ ⦠ ⦣ ⦢ ⦞ ⦝
Mathematics – Add, Subtract, Multiply, Divide Symbols
+  -  ×  ÷  /  =  ≠  √  ±
Mathematics – Geometric special symbols
⊥   ‖   ∠   ⌒   ⊙   ≡   ≌    △
Mathematics – Algebraic special symbol
∝   ∧   ∨   ~   ∫   ≠  ≤  ≥  ≈  ∞   ∶
Different Types of Currency Symbols
$ ¥ ₩ £ € ¢ ¥ ₽  ₮ ฿ ৲ ৳ ௹ 
៛ ₠ ₢ ₣ ₤ ₥ ₦ ₧ ₨ ₪ ₫ ₭ ₯ ₰ 
₲ ₳ ₴ ﷼ ¢ ¤ ƒ
Punctuation Symbols
, 、 。 ! : ; ︰ ˙ ‥ ‧  ‵ ❛ ❜ ❝ ❞ 〃 〝 〞 ﹁ ﹂ ﹃ ﹄ ﹐ ﹒ ﹔
﹔ ﹕ # $ % & * . ? @ ~ •
… ¿ ⁇ ⁉ ⁈  ‽ ⸘  ❢ " ' · ′ " '
Number Arabic numerals Common symbols
0 1 2 3 4 5 6 7 8 9
⒈ ⒉ ⒊ ⒋ ⒌ ⒍ ⒎ ⒏ ⒐ ⒑ ⒒ ⒓ ⒔ ⒕ ⒖ ⒗ ⒘ ⒙ ⒚ ⒛
🄁 🄂 🄃 🄄 🄅 🄆 🄇 🄈 🄉 🄊
⑴ ⑵ ⑶ ⑷ ⑸ ⑹ ⑺ ⑻ ⑼ ⑽
⑴ ⑵ ⑶ ⑷ ⑸ ⑹ ⑺ ⑻ ⑼ ⑽ ⑾ ⑿ ⒀ ⒁ ⒂ ⒃ ⒄ ⒅ ⒆ ⒇
⓿ ❶ ❷ ❸ ❹ ❺ ❻ ❼ ❽ ❾ ❿
⓪ ① ② ③ ④ ⑤ ⑥ ⑦ ⑧ ⑨ ⑩ ⑪ ⑫ ⑬ ⑭ ⑮ ⑯ ⑰ ⑱ ⑲ ⑳
㉑ ㉒ ㉓ ㉔ ㉕ ㉖ ㉗ ㉘ ㉙ ㉚ ㉛ ㉜ ㉝ ㉞ ㉟ ㊱ ㊲ ㊳ ㊴ ㊵ ㊶ ㊷ ㊸ ㊹ ㊺ ㊻ ㊼ ㊽ ㊾ ㊿
⓵ ⓶ ⓷ ⓸ ⓹ ⓺ ⓻ ⓼ ⓽ ⓾ 
㈠ ㈡ ㈢ ㈣ ㈤ ㈥ ㈦ ㈧ ㈨ ㈩
㊀ ㊁ ㊂ ㊃ ㊄ ㊅ ㊆ ㊇ ㊈ ㊉
Ⅰ Ⅱ Ⅲ Ⅳ Ⅴ Ⅵ Ⅶ Ⅷ Ⅸ Ⅹ Ⅺ Ⅻ
ⅰ ⅱ ⅲ ⅳ ⅴ ⅵ ⅶ ⅷ ⅸ ⅹ ⅺ ⅻ
Various English letters common special symbols
ᴀ ʙ ᴄ ᴅ ᴇ ғ ɢ ʜ ɪ ᴊ ᴋ ʟ ᴍ ɴ 
ᴏ ᴏ ᴘ ǫ ʀ s ᴛ ᴜ ᴠ ᴡ x ʏ ᴢ
A B C D E F G H I J 
K L M N O P Q R S T 
U V W X Y Z a b c d 
e f g h i j k l m n 
o p q r s t u v w x y
⒜ ⒝ ⒞ ⒟ ⒠ ⒡ ⒢ ⒣ ⒤ ⒥ ⒦ 
⒧ ⒨ ⒩ ⒪ ⒫ ⒬ ⒭ ⒮ ⒯ ⒰ ⒱ 
⒲ ⒳ ⒴ ⒵
Ⓐ Ⓑ Ⓒ Ⓓ Ⓔ Ⓕ Ⓖ Ⓗ Ⓘ Ⓙ Ⓚ 
Ⓛ Ⓜ Ⓝ Ⓞ Ⓟ Ⓠ Ⓡ Ⓢ Ⓣ Ⓤ Ⓥ
Ⓦ Ⓧ Ⓨ Ⓩ
ⓐ ⓑ ⓒ ⓓ ⓔ ⓕ ⓖ ⓗ ⓘ ⓙ ⓚ 
ⓛ ⓜ ⓝ ⓞ ⓟ ⓠ ⓡ ⓢ ⓣ ⓤ ⓥ 
ⓦ ⓧ ⓨ ⓩ 
Chinese Characters Commonly Used Special Symbols
㊣ ㊤ ㊥ ㊦ ㊧ ㊨ ㊊ ㊋ ㊌ ㊍ 
㊎ ㊏ ㊐ ㊕ ㊙ ㊚ ㊛ ㊖ ㊗ ㊘ 
㊜ ㊝ ㊞ ㊟ ㊠ ㊡ ㊢ ㊩ ㊪ ㊫ 
㊬ ㊭ ㊮ ㊯ ㊰ ㊑ ㊒ ㊓ ㊔
Greek Letters Common Symbols
α β χ δ ε η γ ι κ λ μ ν ω 
ο φ π ψ ρ σ τ θ υ ξ ζ
Recycling Common Special Symbols
♳ ♴ ♵ ♶ ♷ ♸ ♹ ♺
♲ ♻ ♼ ♽
Divider Symbols
☆║.............║☆
*-。-。-。-。-。-。-。*
…。…。…。…。…。…。…。 …。
╠═╬═╬═╬═╬═╬═╬═╬═╬═╬═╣
English KK Phonetic Symbols
i: ə: a: ɔ: u: i e æ ə ʌ ɔ u
ei ai ɔi əu au iə εə uə
p t k f θ s ʃ h tʃ ts  
tr b d g v ð z ʒ r dʒ  
dz dr j w m n ŋ l
12 horoscope constellations Symbols
♈ ♉ ♊ ♋ ♌ ♍ ♎ ♏ ♐ ♑ ♒ ♓
Superscript Symbols
⁰ ¹ ² ³ ⁴ ⁵ ⁶ ⁷ ⁸ ⁹ 
₀ ₁ ₂ ₃ ₄ ₅ ₆ ₇ ₈ ₉
⁺ ⁻ ⁼ ⁽ ⁾ ⁿ ₊ ₋ ₌ ₍ ₎
ₑ ₒ ₓ ₐ ₔ
List of Cute Expression Symbols
ʕ•ᴥ•ʔ ( •̀_•́ ) (>皿<)  (´・ω・`)
[>=<] (`o´) (ˇ⊖ˇ) (°ヮ°) ・ε・
( ︶︿︶) (◕◡◉) ╥﹏╥ ●︿●
ಠ╭╮ಠ (⊙▂⊙ ) ( ̄ε ̄)~♪
ಥ_ಥ (T_T) (◕︿◕✿) (•ㅅ•) (¬_¬)ノ
(≧∇≦)/ (^o^)/ |( ̄3 ̄)| ˶⚈Ɛ⚈˵
(ಥ_ʖಥ) (>﹏<) (╥_╥) ಠ_ಠ ◉_◉
ఠ_ఠ ಠ~ಠ ಠ.ಠ <( ̄3 ̄)>
╮(╯_╰)╭ ╮(╯∀╰)╭
ʘ̥ꀾʘ̥ ^ↀᴥↀ^ (⁎˃ᆺ˂) ┌( ಠ‿ಠ)┘
(●'Д'●) (◎_◎;) Σ(T□T)
(>﹏<) (→_→)  ( ̄﹁ ̄)
="=凸 ('Д`) (・ิω・ิ)
(ΘΘ) (๑→ܫ←) (`_ゝ´) ヽ( ^∀^)ノ
ლ(・ ิω・ิლ) ლ(❛◡❛✿)ლ
⚗_⚗ (◕ᴥ◕) (≧Д≦) (;´ρ`) (T^T)
 乁( ◔ ౪◔)「